QPT (Qualified Professional Trainer)
Knowing a subject is not enough to deliver a training on. Training adults requires specific competencies. This course provides methods and tools to ensure efficient learning process. It focuses on adult learning principles, and includes all stages of the learning cycle. The TOT Program is designed for those who are interested in enhancing their professional training skills.
Why attend TOT with Mentarcise?
This is the only TOT program in Egypt to be delivered by 4 different professional Trainers so you can have the chance to see different styles and to come up with your own style.
Receive your certificate from Mentarcise as a Qualified Professional Trainer ,and Join QPT network to expand your work as a Freelance Trainer.
Receive your certificate from TRACCERT Canada and become internationally recognized as a Professional Trainer (at 75$ USD)
We are totally sure of the quality of the program that we offer 100% money back till the end of the 2nd session.
This is a 92 hrs intensive Training program , so you acquire full details of the learning program and time to practice.
Each participant will get 1 month mentoring with the trainer you are most comfortable with to help you build your Training Career.
After the program, you will be able to do your own training program with Mentarcise.
After the program, recommendations could be put to the trainees with best performance.
Upon successfully finishing this professional training program, participants will be able to :
=============================================================

-Recognize the importance of considering the participants and their training needs, including the different learning styles and adult learning principles
-Develop an effective training style, using appropriate training aids and techniques
-Understand the importance of an instruction guide to help a trainer prepare and deliver effectively and consistently.
-Conduct a group training session that incorporates these training concepts
-Develop a plan and prepare for an effective training session
-Identify advanced interventions for difficult situations
-Practice the skills needed for a team presentation
========================================================

Programe Key topics (How to create a Training Masterpiece)
========================================
Module (1): Analyzing what a masterpiece needs (Analysis)
- Audience Analysis & Base-line Assessment
- Training Needs Analysis
- VAKOG & HBDI Theories
- Professional Training Research
Module (2): Preparing a masterpiece and gathering equipments (Preparation)
- Bloom's Taxonomy
- Creating Training Sequence
- Activity Design
- Types of speeches
- Art of storytelling
- Audio/Visual Aids
- Time Distribution
- Place & venues
Module (3): The creation of Art (Style & Delivery)
- Glossophobia
- Characteristics of an effective trainer
- Training Noble Targets
- Training vs. Teaching
- Adult learning rules
- Golden Circle
- Movement, posture & tone of voice
- Handling audience
Module (4): Masterpiece fine touches & Allurement factors (Evaluation & final formation)
- Kirkpatrick Evaluation
- The ten factors of developing a training program
- Effective presentation tips & tricks
- How to perfect your presentation
Mohamed Reda
With a 6 year background experience in the BPO, a managerial post in the UN, Business & development and finally a 8 years experience in the training field. Mohamed has came to condense and formulate all of his efforts and knowledge acquired to dedicate it to the field of empowerment and development in the form of training sessions & applied workshops to further enhance the youth who are facing today's dynamic global race.


Dr. Mohamed Abd Elghafar
A skilled corporate trainer and competent facilitator with many years pf experience in the entire training functions including needs assessment, developing content, designing and delivering training programs and workshops, in addition to managing various training programs , assessment and development centers.
Currently Mohamed is the learning and development in one of the largest medical labs in Egypt.


Dr. Amr Alaa

Amr is a corporate trainer who started out as a dentist. Amr got inspired to dive into the learning and development insdustry 12 years ago and was fortunate to have learners from six different contitnents in his classrooms. Amr studied psychology in Louisiana, USA. Then he fell in love with psychometric models that focuses on self discovery and meta-cognition. Amr worked in Saudi Aramco and various oil and gas companies in the US and the region.


Islam Ayoub
Through 11 years of working experience and a diversity of exposures to big multinationals like KPMG, Oracle and Microsoft ,Islam had acquired the necessary knowledge to lead a brighter future . Islam has succeeded to leave an impact on thousands of people through Training,Life Coaching and Consultancy. He influences people to discover their potentials and live the life they want.
This is the 13th Time to run this program in 3 years.
People who have previously attended this program had different reasons to attend.
Here are some results after attending QPT :
Some graduates worked in L&D department in multinational companies
Some graduates are now on stage in front of hundreds of people
Some graduates started working as professional Trainers in their fields
Some graduates started to have their own FB Page and now they are public fugures
Some graduates shifted into the Training field
Some graduates worked as corporate trainers (Full time / part time)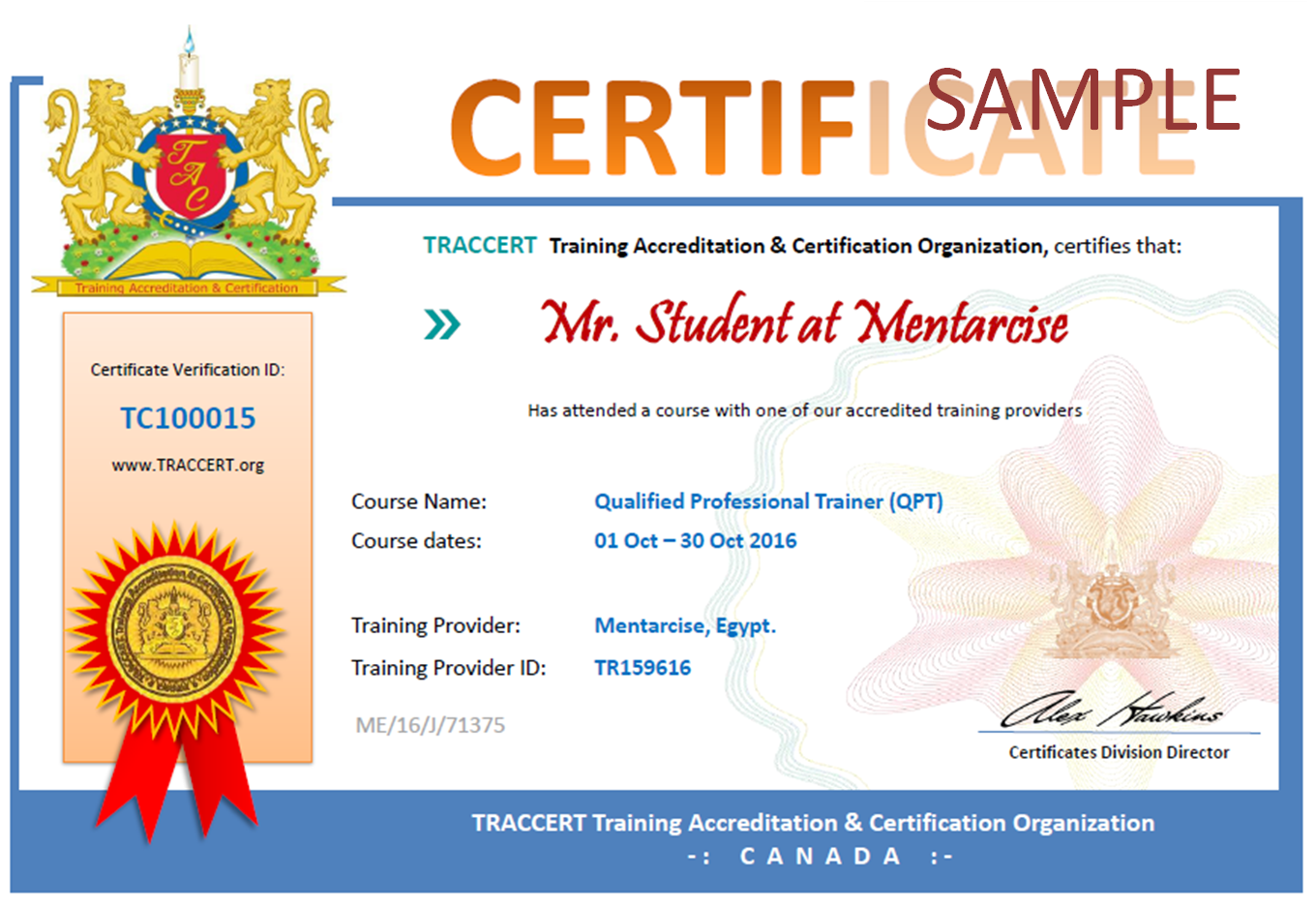 Certificate
Qualified Professional Trainer (By Mentarcise)
Qualified Professional Trainer (By TRACCERT Canada)
Schedule
14 Mar – 12 May 2018
Each Saturday and Wednesday
Saturday 12-6 pm Wednesday 6:30-9:30 pm
Fees
Before 17 Feb (Early bird)
5350 LE
4750 LE Group rate (2 or more)
After 17 Feb
5950 LE
5350 LE Group rate (2 or more)


Note : Certification from TRACCERT Canada is eligible after completing this program at 75$ USD.
Venue
4B El Nozha St, Heliopolis Cairo